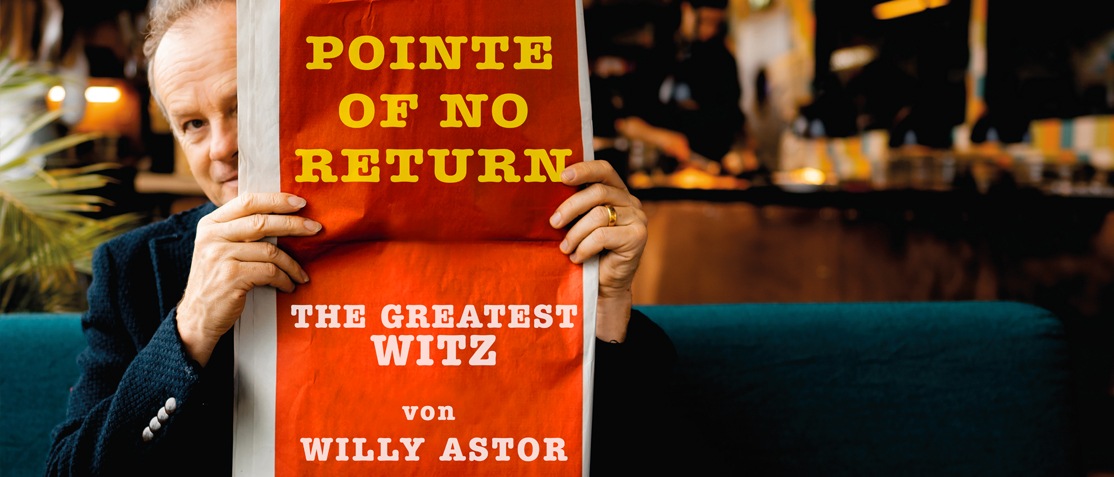 Pointe of no Return - the greatest Witz von Willy Astor
Für alle Freuwilligen gibt's einen Silbenstreif am Horizont - Deutschlands bekanntester Wortverdrechsler & Silbenfischer, Fürst Albern von Monaco, entert die Bühnen mit seinen Greatest Witz: Willy Astor
Der gefühlte Enkel von Karl Valentin und Heinz Erhardt ist seit 35 Jahren als Podestsänger unterwegs – von Berlin bis Basel, von Wien bis Westerland.
Und in diesen 35 Jahren hat der Wortakrobat, Liedermacher und Ausnahmegitarrist vielfältige Tonjuwelen erschaffen: vom Radkäppchen bis zu seiner Alkoholnummer, vom Fasermacker bis zu "Maschin scho putzt", allein sein "Kindischer Ozean" ist mittlerweile ein Klassiker in jedem Kinder-CD-Regal, sein Sound Of Islands-Projekt begeistert jeden Fan von Instrumentalmusik.
Dieser Abend besteht aus Humor direkt vom Erzeuger und einem Komödianten, der als ehemaliger Werkzeugmacher sein Mundwerk noch als Handwerk versteht.
POINTE OF NO RETURN: das Beste aus dem Einfallsreich.
Hingehen ist Schelmpflicht - denn Lachen ist und bleibt systemrelevant!
Plakate, Anzeigen Flyer
Sie können Werbemittel für diese Produktion mit Ihrem Veranstaltungs-Eindruck zu fairen Preisen direkt bei
unserer Partner-Agentur bestellen. Informationen zu Preisen und dem Bestellvorgang erhalten Sie hier:
Bestell-Information hier als PDF laden
Wenn Sie Ihre Werbemittel lieber selbst beschaffen wollen, verwenden Sie bitte ausschließlich die hier hinterlegten Vorlagen. Die Download-Links finden Sie am Ende des Textes.
Ihr Ansprechpartner für Booking-Anfragen:
Backstage Promotion Veranstaltungs- und Verlags- GmbH
E-Mail bitte hier klicken
(Technik, Licht, Catering etc.)
Datum
Bemerkung
Ort
Location
Uhrzeit
Künstler
Programm
Tickets
Monat
Sa 02.07.22
Bad Tölz
Streidlgarten Rosenpark
20:00

Uhr

Willy Astor
Pointe of no Return (Best of)
www.muenchenticket.de
07.22
Di 12.07.22
Verlegt vom 02.04.2022
Monheim
Stadthalle
20:00

Uhr

Willy Astor
Pointe of no Return (Best of)
www.eventim.de
07.22
Fr 15.07.22
Dreieich
Burgfestspiele
20:00

Uhr

Willy Astor
Pointe of no Return (Best of)
www.buergerhaeuser-dreieich.de
07.22
Sa 16.07.22
Bayreuth
Kulturkiosk an der Seebühne
20:00

Uhr

Willy Astor
Pointe of no Return (Best of)
www.motion.online-ticket.de
07.22
So 17.07.22
Verlegt vom 04.12.2021
Waldkirchen
Stadtpark
20:00

Uhr

Willy Astor
Pointe of no Return (Best of)
www.okticket.de
07.22
Do 21.07.22
Gröbenzell
Stockwerk-Sommer
21:00

Uhr

Willy Astor
Pointe of no Return (Best of)
www.kultur-ticketshop.de
07.22
Sa 23.07.22
Plauen
Parktheater
20:00

Uhr

Willy Astor
Pointe of no Return (Best of)
www.eventim.de
07.22
Fr 29.07.22
A - Ried im Innkreis
Red Zac Arena
20:00

Uhr

Willy Astor
Pointe of no Return (Best of)
www.oeticket.com
07.22
Do 15.09.22
Verlegt vom 19.05.2022
Marktoberdorf
Modeon
20:00

Uhr

Willy Astor
Pointe of no Return (Best of)
www.eventim.de
09.22
Fr 16.09.22
Pforzheim
Kulturhaus Osterfeld
20:00

Uhr

Willy Astor
Pointe of no Return (Best of)
www.reservix.de
09.22
Do 06.10.22
Verlegt vom 10.03.2022
Bad Wiessee
Spielbank Foyer
20:00

Uhr

Willy Astor
Pointe of no Return (Best of)
10.22
Sa 15.10.22
Sigmaringen
Stadthalle
20:00

Uhr

Willy Astor
Pointe of no Return (Best of)
www.reservix.de
10.22
So 16.10.22
Konstanz
Bodenseeforum
19:00

Uhr

Willy Astor
Pointe of no Return (Best of)
www.reservix.de
10.22
Do 27.10.22
Lindau
Inselhalle
20:00

Uhr

Willy Astor
Pointe of no Return (Best of)
www.reservix.de
10.22
Fr 11.11.22
Verlegt vom 12.11.2021
Hannover
Theater Langenhagen
20:00

Uhr

Willy Astor
Pointe of no Return (Best of)
www.adticket.de
11.22
Sa 12.11.22
Freudenstadt
Theater
20:00

Uhr

Willy Astor
Pointe of no Return (Best of)
www.karoevents.reservix.de
11.22
So 13.11.22
Bühl
Bürgerhaus Neuer Markt
19:00

Uhr

Willy Astor
Pointe of no Return (Best of)
www.reservix.de
11.22
Do 17.11.22
Verlegt vom 20.05.2022
Fürstenfeldbruck
Veranstaltungsforum
20:00

Uhr

Willy Astor
Pointe of no Return (Best of)
www.eventim.de
11.22
Sa 26.11.22
Verlegt vom 11.05.2022
Gunzenhausen
Stadthalle
20:00

Uhr

Willy Astor
Pointe of no Return (Best of)
www.eventim.de
11.22
Mi 30.11.22
A - Wolfurt
Cubus
20:00

Uhr

Willy Astor
Pointe of no Return (Best of)
www.oeticket.com
11.22
Do 01.12.22
Verlegt vom 08.05.2021
CH - Winterthur
Casinotheater
20:00

Uhr

Willy Astor
Pointe of no Return (Best of)
www.casinotheater.ch
12.22
Fr 02.12.22
Verlegt vom 06.05.2021
CH - Bern
La Capella
20:00

Uhr

Willy Astor
Pointe of no Return (Best of)
www.la-capella.ch
12.22
Sa 03.12.22
Verlegt vom 07.05.2021
CH - Bern
La Capella
20:00

Uhr

Willy Astor
Pointe of no Return (Best of)
www.la-capella.ch
12.22
So 04.12.22
CH - Solothurn
Kulturfabrik Kofmehl
19:00

Uhr

Willy Astor
Pointe of no Return (Best of)
www.kofmehl.net
12.22
Di 13.12.22
Verlegt vom 17.10.2021
Erfurt
Alte Oper
19:00

Uhr

Willy Astor
Pointe of no Return (Best of)
www.eventim.de
12.22
Mi 14.12.22
Berlin
Wühlmäuse
20:00

Uhr

Willy Astor
Pointe of no Return (Best of)
www.wuehlmaeuse.de
12.22
Do 15.12.22
Berlin
Wühlmäuse
20:00

Uhr

Willy Astor
Pointe of no Return (Best of)
www.wuehlmaeuse.de
12.22
Fr 16.12.22
Berlin
Wühlmäuse
20:00

Uhr

Willy Astor
Pointe of no Return (Best of)
www.wuehlmaeuse.de
12.22
Sa 17.12.22
Verlegt vom 18.12.2021
Leipzig
Haus Leipzig
20:00

Uhr

Willy Astor
Pointe of no Return (Best of)
www.d2mberlin.de
12.22
So 18.12.22
Verlegt vom 19.12.2021
Dresden
Schlachthof
19:00

Uhr

Willy Astor
Pointe of no Return (Best of)
www.eventim.de
12.22
Mi 21.12.22
Verlegt vom 03.04.2022
Augsburg
Kongress am Park
20:00

Uhr

Willy Astor
Pointe of no Return (Best of)
www.eventim.de
12.22
Sa 07.01.23
Feldkirchen-Westerham
Kultur- und Sportzentrum
20:00

Uhr

Willy Astor
Pointe of no Return (Best of)
www.kulturherbst-feldkirchen-westerham.de
01.23
So 08.01.23
Verlegt vom 09.01.2021
Memmingen
Stadthalle
19:00

Uhr

Willy Astor
Pointe of no Return (Best of)
www.reservix.de
01.23
Fr 24.03.23
Verlegt vom 31.03.2022
Kulmbach
Dr. Stammberger Halle
20:00

Uhr

Willy Astor
Pointe of no Return (Best of)
www.kartenkiosk-bamberg.de
03.23
Sa 25.03.23
Verlegt vom 30.03.2022
Coburg
Kongresshaus Rosengarten
20:00

Uhr

Willy Astor
Pointe of no Return (Best of)
www.kartenkiosk-bamberg.de
03.23
Di 28.03.23
Künzelsau
Carmen-Würth-Forum
20:00

Uhr

Willy Astor
Pointe of no Return (Best of)
www.kunst.wuerth.com
03.23
So 07.05.23
Verlegt vom 06.02.2022
Regensburg
Audimax
20:00

Uhr

Willy Astor
Pointe of no Return (Best of)
www.eventim.de
05.23
Mo 12.06.23
Verlegt vom 14.09.2021
Wolfhagen
Kulturzelt
20:00

Uhr

Willy Astor
Pointe of no Return (Best of)
www.kulturzelt.de
06.23
Datum
Bemerkung
Ort
Location
Uhrzeit
Künstler
Programm
Tickets
Monat